Fibre Tuff is a composite material that has bone-like properties. It is possible to drill the material and set screws, with excellent screw retention. The material has a tensile strength similar to nylon (PA 11 or 12). The material is biocompatible and can be sterilized. This makes the material ideal for model and surgical guide printing.
The material is biocompatible. It has passed the USP Class VI testing. This includes
Acute systemic toxicity test; a systemic injection test using different types of extracts. Measures toxicity and irritation
Intracutaneous injection test with different extracts. Measures toxicity and local irritation in subdermal tissue
Implementation of a test strip for several days. Measures infection and irritation in muscular tissue.
FibreTuff models can be autoclaved, so the models and the surgical guides can be used in the OR. With a non-toxic barium coating, the material has a bone-like radiopacity (400 HU), making the material suitable as phantom material for bone tissue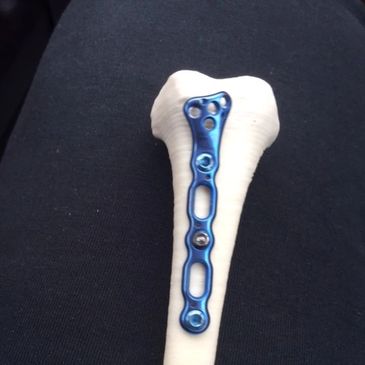 Models and Guides
Vosfox Medical can provide you with any generic or patient-specific bone model. We can also print surgical guides for you
Buying materials only
Vosfox Medical can supply you with FibreTuff powder for laser sintering and filament (both 1,75 and 2,80 mm). The price for powder is available on request.
500-gram spool is 175 euro
750-gram spool is 240 euro